If you are considering having wooden flooring installed, starting from a blank canvas is a very thrilling prospect. With a variety of wood types to choose from, designs to pick and colour moods to select to make your space come alive – we are happy to help you build your vision. Based in St Albans, we create some stunning wood floor installations in North London, working throughout this amazing city of ours, as well as many towns in Hertfordshire.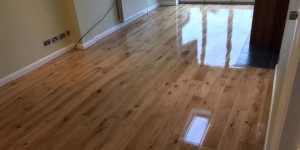 Having wooden flooring in your home is a real luxury and, as long as it is installed by a professional, will look exceptional for many years. It is hard wearing, easy to keep clean as well as looking stylish and contemporary. There are many different styles you can choose from with wooden flooring: from waxed to varnished flooring, parquet or herringbone designs or just straight and classic boarding.
Classic floorboards are the easiest to fit and come in different widths and wood, depending on the size of your room and personal choice.  Parquet flooring, herringbone and other designs are a bit more complex to install, but will look equally stunning once complete and this is purely down to personal taste. Please chat with us about your ideas and thoughts when we come to survey your space.
Wood floor installation is a detailed process, but we will keep you fully informed at each stage of the work so you can accommodate your furniture, the people who live in your home as well as any pets.
Wood Floor Installers
If your existing wooden floor is in need of a revamp, Maxymus Floorcare can source and install wood flooring to blend in. Whatever your requirements, we do the work, so you can enjoy the results.
Being experienced wood floor installers, we work in many period homes as well as new builds, installing different styles and finish of wooden flooring. There are many choices to be made but our experienced wood floor installers can help and advise you on the best choices to make, for your space.
At Maxymus Floorcare, we deliver your vision with skill and precision, using first-rate products, to make your wooden floor a prominent and distinctive feature of your room.
We carry out many wood floor installations in North London and primarily work in and around this area as well as Hertfordshire. Please call us on 0208 166 5136 if you would like to ask a question, request a quote or make a booking for your wood floor installation.