Parquet Floor Sanding in London
Parquet flooring is a real thing of beauty. It creates a style to your room that is second to none. A very popular choice over the years and is indeed still going strong. So we love it at Maxymus Floor Sanding when we get a project that involves parquet floor sanding in London and the surrounding areas.
It can go hand in hand, that when a floor needs sanding, there will be wooden floor repair work as well. This can be inevitable through years of wear and tear, hard traffic and animals. Just because it is hardwood does not mean it won't scratch or be damaged and we always explain to our customers that care needs to be taken when having a wooden floor installed.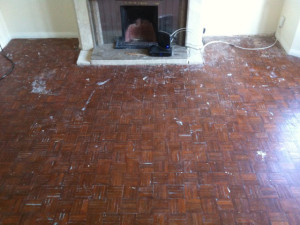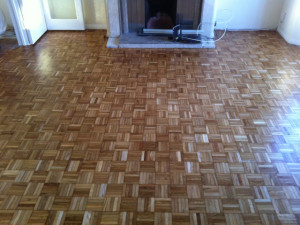 But parquet flooring, once resanded and then varnished or oiled with whatever finish you have requested will last you many years, with care. Easy to keep clean and dustfree and it is great if customers have allergies from carpets and other soft furnishings.
Taken from Wikipedia summary, Parquet is as follows:
Parquet is a geometric mosaic of wood pieces used for decorative effect. Parquet patterns are entirely geometrical and angular—squares, triangles, lozenges. The most popular parquet flooring pattern is herringbone. (The use of curved and natural shapes constitutes marquetry rather than parquetry.)
We often get asked for Parquet flooring, as well as herringbone, instead of the traditional plank style wooden flooring. Our customers like to choose something a little different and parquet will perhaps add a little more interest to your room.
Maxymus Floorcare can ensure your wooden floor is brought back to life; parquet floor sanding in London and Hertfordshire is what we specialise in, so please call us now on 0208 166 5136 and we will take it from there!
We look forward to hearing from you…