Upgrade Wooden Floors Before You Sell
We get lots of calls from customers who have wooden flooring already laid. They are looking to move house and as with all aspects of their home they are wanting to ensure that nothing will detract from the sale of their house, it will all look perfect for potential viewings and will give a really good impression for possible buyers. If you are looking to upgrade wooden floors before you sell your home then we can help!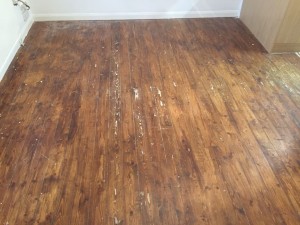 Over years of constant wear and tear, wooden flooring can look very worn. We always recommend using a good but careful wooden floor cleaner, and taking care of your floors but inevitably this could happen. Moving furniture, heavy tread through walkways and animals all go towards making your wooden flooring look old and worn.
So a recent customer contacted us as they are just about to put their flat on the market to sell. The pine flooring was very worn and had been coated with a really thick coat of varnish which did nothing to enhance the look of the beautiful flooring.
It took quite a lot of work to remove the old varnish – adding a coat on top of what is already there can be a short term fix but will cost more long term. It is far better to resand and then polish your wooden floors, keeping the lovely quality of the wooden floor and erasing all the scratches and dents that covering with varnish will not do.
We have brought it back to life, showing all the knots and wood markings, enabling our customers to be able to market it effectively.
If you have worn or old wooden flooring in your home, don't just rip it up until we have taken a look. You will be amazed at what Maxymus Floorcare can do – we work wonders with wooden flooring. Upgrade wooden floors before you sell with Maxymus Floorcare; it will make selling your home that little bit easier.
Please call us on 0208 166 5136 and we will arrange to take a look.
We look forward to hearing from you…