Wooden Floor Repair in Hampstead
We have just completed a wooden floor repair in Hampstead. This was just a small job for Maxymus Floorcare but, whatever the size, we always take great pride in our work.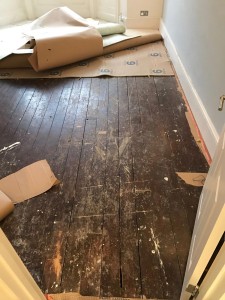 The customer had a pine floor underneath their carpet. they wanted to bring it back to it's original beauty.
So we removed the carpet, which is one of the services we often get requests for. Many customers make this request, as over the years it was fashionable to cover original flooring with easy to maintain carpet. However, more and more people are enjoying the look of natural wooden flooring and this sort of reclaimed wood is perfect to bring a stylish look to any room.
Once the carpet had been removed, we could see that the wooden floor needed some repairwork carried out. There were small holes in the flooring and these needed filling; which we did with slivers of reclaimed wood.
The floor was then sanded, stained to the required colour and then finished with a satin varnish to keep it protected and give it a beautiful shine.
If you have wooden flooring under your carpet and would like to revert back, then please call us on 0208 166 5136 and we will take a look at what you currently have, suggest the options and colour finishes available to you and give you an estimate for the complete job.
This wooden floor repair in Hampstead was a nice one to do as the transformation was very effective.